Our personal opinion of Veecoco's online cooking courses: This is a fantastically well presented collection of courses that are thoroughly thought out, comprehensive and enjoyable. Packed full of engaging and educational content that is easy to comprehend and master. Delivered by chefs who are experts in their field with a passion for sharing that knowledge and expertise with you. This course is well reviewed by customers, so take a look and read their testimonials for assurance and then sign up for your chosen course or even grab yourself a  FREE TRIAL!
You can even give the Veecoco course as a gift to a loved one via a gift card that will entitle the recipient full access to all the courses content for either 1, 3, 6 or 12 months duration. This makes a really thoughtful and truly appreciated gift to anyone who is either new to vegan cuisine or would like to expand their current knowledge and skillset. Ideal as a special gift for a birthday, Christmas or a special occasion. Click here to see full details of gift card options.
Veecoco's fantastic online cooking courses offer you the chance to expand your knowledge of vegan cuisine and gain the necessary skills required to enjoy delicious meals from around the world, from the comfort of your own home at a time to suit you.
Discover a veritable feast with this fabulous collection of 100% vegan recipes from around the world, including German, Italian, Japanese, Korean, Thai, Vietnamese and many more.
Build your cooking skills repertoire and gain confidence in your own ability to create fantastic vegan meals from scratch for yourself and for your family, friends and colleagues.
Each course varies in length and has between 15 and 30 videos, covering anywhere from 12 to 30 recipes plus additional videos on the specific cuisine, cutting tips, plating tips, ingredients and more.
Learn techniques to master the art of pastry making, deserts, cheese making, chocolates and sweets, sourdough, raw food essentials and much more.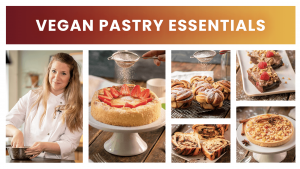 18 complete cooking courses, taught by expert vegan chefs, with more courses coming soon
600+ individual lessons
Each course is full of step-by-step video tutorials featuring expert chefs
Each course comes with a dedicated course book (digital) and organised shopping lists
Learn at your own pace, all content is available to access at any time, on any device, anywhere in the world.
Access to the Veecoco private online community
Monthly Q & A sessions with expert chefs going deeper into their specific styles of vegan cuisine
Personal feedback – get answers to your questions as you move through the curriculum, via the program or the community
Veecoco's online vegan cooking courses have something to tickle everyone's taste buds! Click here to discover them all and find your favourite.
For those who like deserts and sweets.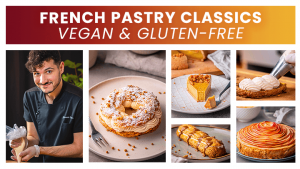 For those who like cheese.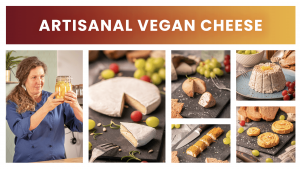 For those who like a variety of authentic world cuisine.